The playoffs started? Well, I'll be. The NBA regular season is garbage, but the playoffs can be pretty fun because, ya know, stuff matters finally. There's more defense, more tight play, and just a general increase of emphasis on everything.
But if you're like me and any and all teams you root for have been eliminated, you're gonna need the right inspiration to watch. Pick a team and roll with them. Who knows, maybe you'll even end up at NBAshop, buying a jersey tee. Below are the official Playing Field Blog (sponsored by Floor & Decor!) NBA playoff team rankings, in order of shit-tastic teams to the guys you should really be banging your thunder sticks to.
16. Los Angeles Lakers - Are you goddamn kidding me? These turds bumped the Rockets from the 7th seed? It goes without saying that Team Kobe is pretty hated, but add in the Dwight Howard factor and I don't know many people that care to see this team do anything. I have quite a few buddies who are Magic fans, and that tool shit all over that franchise. In fact, it's probably better for all of us that the Lakers made it--it'll be pretty sweet to see them roasted, toasted, and burnt to a crisp by the Spurs. Plus, Kobe isn't even playing, so it's not even that fun to root AGAINST them.
15. Milwaukee Bucks - Even though things tightened up a bit toward the end, the Bucks were the most 8th seed team ever for about a month. A definitive seven teams better than them and everyone else in the conference just pooing themselves in so many mangled knees and silent Kyrie Irving screams. At six games under .500, the Bucks are a mere speed bump in Miami's way and should be ousted first. Plus, Monta Ellis is supposedly an ass who is totally holding back the awesomeness of Brandon Jennings.
14. Boston Celtics - I think even Celtic fans have accepted their fate this year. In a season where I'd usually be convinced the refs and David Stern WILLED both the C's and Lake Show into the playoffs, they even know it doesn't really matter. This season is filled with such intrigue and stars that it doesn't need the old guard for ratings.
13. Memphis Grizzlies - They thrifted Rudy Gay up north, that city is a gang-infested, dated mess, and their coach's fingers are unsettling to say the least. I have no desire to see this team in any capacity, unless Beale Street reforms to the capital of Trap music instead of Blues.
Josh Smith pop art is the best
12. Atlanta Hawks - The Hawks, mired by a lack of a true star for years, have been the worst-best team for a better part of five seasons now. Seriously, every year they are 3rd to 6th in the East and inconspicuously do nothing before a team with a guy who can post over 20 a game mows them down and you never hear from them again. Josh Smith might be in witness protection.
11. Chicago Bulls - Pffft. Joakim Noah is good to go for the series, but what's to see without Derrick Rose? The emergence of Jimmy Butler? Plus, it's a bit difficult for any Jordan haters to root for this team, even after the fall of His Airness. Never forget.
10. Golden State Warriors - I didn't even know the Warriors were in the playoffs until I saw the schedule. I honestly thought Portland was in. How could Portland NOT be in with that front court and ROY for-sure at the point? Man, Portland's gonna be baller next year.
Damian Lillard will not be attending
9. Brooklyn Nets - Jay Z's kind of evolved into an uber-asshole over the past year and his attachment to this team makes it really hard to see them succeed. He pretty much took full credit for moving them out of the Meadowlands. With that sentiment I hereby wish Lebron and Friends to smite the Nets in four games. Brook Lopez, you're cool, though. You might've hit Michelle Wi.
8. San Antonio Spurs - I root for the Spurs, but I'm by no means a fan of theirs if that makes sense. I love the small city atmosphere, I love the unheralded dynasty, and I love that they've completely exposed how stupid the regular season is by resting their players in shifts. I think Tim Duncan played eight games this year. But yeah, you heard me. DYNASTY. This team has set the standard for greatness over the decade but it's about time to close the door. Unless you are Tracy McGrady's mother or live in San Antonio, there's no need to see this team win it.
7. Oklahoma City Thunder - This team will have oodles of chances to come and I love how they've pretty much become the foil to LBJ's ascension to the throne, but they are still a bit premature in their reign. Also, don't forget these guys were birthed from the SuperSonics, who had several years of dominance.
6. New York Knicks - Stat of the day: today was the first time since 2001 (!!) that the Knicks have led a series. Yikes. Carmelo is the scoring champion story, and will make for a decent villain throughout, but it's not like NYC is craving for a title. Hell, even Melo won a national championship in college. I shed no tears for his no-passin' ass.
5. Indiana Pacers - RIP Danny Granger. As a kid who thought Reggie Miller was the best antithesis to MJ, I found myself rooting for him, Mark Jackson, that tall white Euro guy and all the Pacers. Plus, Pacers fans are some of the best fans in sports. They deserve a title soon, but I just don't think they have a mature, go-to guy to escape the East.
4. Houston Rockets - They've come a long way since the Yao Ming era, haven't they? They've also had to endure the Royce White saga all year, so kudos to the guys who brought in James Harden to be their new face of the franchise. Add co-pilot Jeremy Lin and the whitest-kid-u-know Chandler Parsons and you have a lovable underdog story. And if they break out the old-school cartoon Rocket for the playoffs I might love them forever.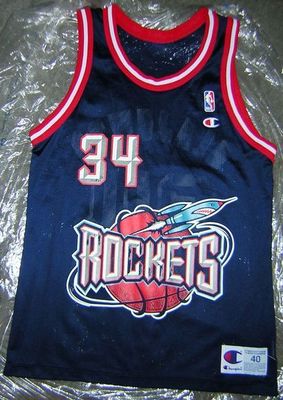 3. Los Angeles Clippers - Technically, they have one of the deepest benches in the playoffs, have veteran leadership and go-to scorers. Bust most experts are picking them to not even escape the first round against the Grizzle. Wha? Not only do I fully support a run by Lob City, but you're an idiot if you don't appreciate how fun this team is. Mechanically, DeAndre Jordan is a terrible center, but he will crush you. Blake Griffin is soft, yes, but he can finish with 20 and 10 every night. And Paul? Dude is the best PG in the world and deserves a run at the title. He was sentenced to half a career in New Orleans. If anything, do it for CP3.
2. Denver Nuggets - As far as legit contenders, this is a team I can get behind who I actually think stands a chance to win it. It's gonna be tough without the three point shooting and overall offense of Danilo Gallinari, but dammit if these guys aren't also fun to watch. Off the court, George Karl is one of the best coaches you can root for. He's a hard worker and a player-first guy who's a cancer survivor and volunteers with sick kids. Checkmate for any other coach still going. Also, look out for
Kenneth Faried
, who vacuums up rebounds with the best of 'em.
The Manimal = relevant
1. Miami Heat - A repeat might be in the cards, my friends. No one in the East should be able to touch this team and it should be only a matter of time before they see which force in the West will stand between them and their next title. I know a lot of people hate Lebron James, but if you're on the fence about the guy or just know him as the Cleveland Judas, read up a little more on that whole situation. The King did all he could in that situation, took less money, and is now justified in his decision. The new dynasty is here, and it'll be damn fun to see if anyone can topple them.